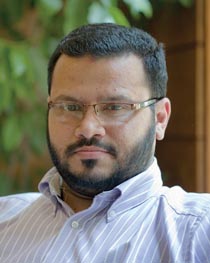 MR. MOINUDDIN HASAN RASHID
Managing Director
MANAGING DIRECTOR & DIRECTOR, UNITED POWER GENERATION & DISTRIBUTION COMPANY LIMITED
Mr. Moinuddin Hasan Rashid was born in 1982 in Dhaka. Upon completion of his B.Sc. in Electrical and Electronics Engineering from University College London he joined United Group in 2005 as a second generation Director. As a young and energetic entrepreneur, he marked his future through dedication, dynamism and foresight in shaping the Power Sector, one of the major enterprises of United Group. On 12 July 2011 he was appointed as Managing Director of United Enterprises & Co. Ltd, and simultaneously holds the position of the Managing Director for United Power Generation and Distribution Co. Ltd. and many more sister concerns. Mr. Rashid is an Active Trustee of the United Trust, a CSR organization of the Group and United International University Foundation.
In 2011 he oversaw commissioning of 208 MW Power Generation under three projects (KPCL II, KJAPCL & UAPL). United Ashuganj Power Ltd. (UAPL) is a quick rental power plant that was constructed and commissioned in a record time of 120 days under the tireless and bold leadership of Mr. Rashid. He also established United Property Solutions Ltd. one of the leading real estate developers of the country and oversaw the development of United Land Port Teknaf Ltd, Bangladesh's only land port with Myanmar. Along with responsibilities mentioned above, he looks after Group Investment and Business Development. Mr. Moinuddin Hasan Rashid supervised Power Plant expansion projects of UPGDCL DEPZ and UPGDCL CEPZ by 75 MW, oversaw commissioning of United Energy Ltd., formerly known as Shajahanullah Power Generation Co Ltd, a 28 MW Power Plant, and spearheaded the Joint-Venture of Gunze United Limited in 2013. Mr. Rashid also established United Shipping and Logistics Services Ltd. in 2015.
Currently, Mr. Rashid is the Managing Director or United Power Generation & Distribution Co. Ltd. (UPGDCL), United Ashuganj Power Ltd. (UAPL), United Ashuganj Energy Ltd. and United Property Solutions Ltd. (UPSL) and is in the Board of Directors of United Hospital Ltd. (UHL), Khulna Power Company Ltd. (KPCL) and United Landport Teknaf Ltd. (ULPTL). He is also an active member of the Board of Trustees of United International University (UIU). Mr. Rashid is also the Joint General Secretary of the Board of Trustees United International University, Trustee of the Social Services & Management Trust, Sir John Wilson School and Joint Convener of DCCI Standing Committee.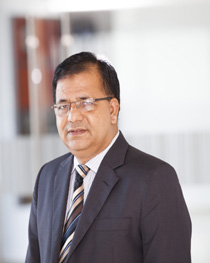 SHEIKH ASHRAF HOSSAIN
Chief Operating Officer
CHIEF OPERATING OFFICER
Mr. Sheikh Ashraf Hossain passed his Bachelor in Science degree in in Electrical & Electronics Engineering from Bangladesh University of Engineering & Technology (BUET) in 1987 and joined Bangladesh Power Development Board (BPDB) in 1988 in Khulna Power Station. He worked in different offices in BPDB including the office of the General Manager, Commercial Operation, BPDB, Dhaka and Independent Power Producer (IPP) cell, Dhaka. During service in BPDB he completed Post Graduate Diploma in Electric Power System from Norwegian University of Science and Technology, Trondheim, Norway in 1996. He left BPDB and joined emerging private power sector in Bangladesh in 2004 in Lahmeyar International Pally Power Services. He joined United Enterprises & Co. Ltd in 2006. In 2006 he also completed MBA degree in Finance from Dhaka University. He actively participated in growing power division of United Group in implementing power plants in Dhaka EPZ, Chittagong EPZ, Ashuganj, Sylhet, Khulna, and Jessore. During the period from October 2013 to April 2015 he served Digital Power Associates Ltd., a concern of Orion Group, as Director (Technical) and successfully implemented 102 MW HFO based power plant in Narayanganj. He again joined Power Division of United Enterprises & Co. Ltd. in April 2015 as Chief Operating Officer. He played an active role in the development of 195 MW(net) gas based Combined Cycle Modular Power Plant in Ashuganj in the name of United Ashuganj Energy Ltd.(UAEL).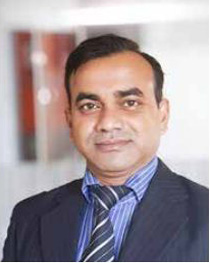 MD. MOJIBUL ISLAM PATOARY
Assistant General Manager (F & A)
Assistant General Manager (F & A)
Mr. Md. Mojibul Islam Patoary completed his post-graduation in Accounting from Comilla Victoria Government College under National University. He joined with United Group in 2006. Currently he is working as Assistant General Manager, Finance and Accounts Department. He completed his three years' article ship in 2006 from Howladar Yunus and Co., a renowned Chartered Accountancy Firm Correspondent firm with the globally reputed Chartered Accountancy Firm named Grant Thornton International Ltd. He did his Masters of Business Administration (MBA) from United International University majoring in Finance in 2013. He passed Income Tax Practitioner (ITP) under the Income Tax ordinance 1984 from National Board of Revenue (NBR), Bangladesh in 2012 and enlisted as an Income Tax Practitioner of NBR.